Press Release - JYSK – Home furnishing retailer, opens "2 New Ottawa" Stores on May 10th, 2014
JYSK Bed • Bath • Home - the Scandinavian-based retailer with over 2100 locations worldwide, has just opened their new JYSK locations in Kanata and Nepean in the city of Ottawa, ON.
The brand new stores are located at 290 West Hunt Club Road by Lowe's and 5487 Hazeldean Road near Winners. JYSK is offering Big Savings on a wide selection of products as part of a special Grand Opening flyer from May 10th to 12th at all 3 JYSK stores including the 2085 Tenth Line road location in Orleans. On May 10th at 8 am the first 100 customers will receive a Free $20 Bonus Card at all 3 stores!
JYSK is your indoor and outdoor, everything for your home store! JYSK boasts a wide range of designs and products to suit a vast scope of tastes and budgets. Celebrating 18 years in Canada this fall, the popular Scandinavian furniture, home solutions chain has become the go-to destination for savvy decorators and homeowners who are looking to spruce up their living spaces inside and outside of the house.
Founded by Jakup Jacobsen, who first set up shop under the JYSK: Linen 'N Furniture brand in Canada in 1996, the company has evolved immensely from its original offerings it first began selling in Denmark in 1979. Since then, JYSK has established itself as a Canadian source for home furnishings, accessories, linens and décor for consumers from coast to coast.
Today, there are 54 brick and mortar JYSK stores across Canada, from British Columbia to Halifax and the company has plans to open many more stores in Canada over the next five years. In addition JYSK has it's own online store at www.jysk.ca
According to Lynne Williams, the company's Canadian Advertising Director, "At JYSK, customers will find all the furnishings they need for their home; from mattresses to towels, including linen and curtains. JYSK is the ultimate expert in offering products for a great nights sleep. Duvets and pillows are a JYSK trademark as we are the world's largest buyers of these products. We also sell a large selection of spring and foam mattresses with a Basic, Plus and Gold range of prices and quality to fit every budget. In our furniture department, customers will find a large selection of Scandinavian and North American style beds, tables, bookcases, seating, and dining sets. We also carry a great assortment of outdoor product, gifts, and décor items. "Williams says that the buying power of having over 2100 stores allows the company to pass on considerable cost savings to customers who want value for their dollar. She says that JYSK is confident that everything they sell will meet the standards of even the most discerning customers, including their own corporate and retail employees.
JYSK really is your indoor and outdoor, everything for your home store. JYSK ships anywhere in Canada from its Online Store at www.jysk.ca where you can shop 24 hours a day.
Press Release - Champions Start at Home
JYSK - Shop at JYSK Canada Store Locations until September 30 and Support local Special Olympics Programs - TORONTO (September 1, 2013)



Between August 29 and September 30, JYSK Canada invites customers to donate at any of its 52 retail locations to support Special Olympics Canada's programs for Canadians with an intellectual disability.

A partner since 2007, JYSK Canada raises money and awareness for Special Olympics Canada's programs through the Champions Start at Home campaign, which encourages customers to make a small donation when cashing out.


"JYSK Canada customers have a chance to make a difference in the lives of people with intellectual disabilities in their community, simply by making a donation at the till," said Lynne Williams, director of advertising, JYSK Canada. "We are proud of our continued partnership and association with this incredible movement of champions."

Special Olympics provides daily sport programming to individuals with an intellectual disability of all ages, in communities across the country. Through the transformative power and joy of sport, Special Olympics contributes to social change, strengthens communities and helps create a more inclusive society.

"Special Olympics highlights our athletes' abilities and allows them to reach their full potential," said Lindsay Glassco, President and CEO of Special Olympics Canada. "JYSK Canada's ongoing support allows us to provide more sport opportunities to individuals with intellectual disabilities of all ages and a wide range of abilities across the country."

About JYSK Canada

The first JYSK store was opened in Canada in 1996 by Jakup Jacobsen in Coquitlam, British Columbia. Today, there are 52 JYSK stores in Canada with locations in British Columbia, Alberta, Saskatchewan, Manitoba, Ontario and most recently, in Quebec and Nova Scotia. JYSK will continue to expand across Canada over the next several years. With a passion for Scandinavian design, products range from furniture to accessories, including mattresses, bedding, and outdoor products that will enhance any living spaces with a sense of sophistication at affordable prices.

About Special Olympics Canada

Established in 1969, the Canadian chapter of this international movement is dedicated to enriching the lives of Canadians with an intellectual disability through sport. Operating out of sport clubs in all Canadian provinces and territories, except Nunavut, this grassroots movement reaches beyond the sphere of sport to empower individuals, change attitudes and build communities. From two-year-olds to mature adults, more than 35,880 athletes with an intellectual disability are registered in Special Olympics year-round programs across Canada. They are supported by more than 16,452 volunteers, including more than 12,209 trained coaches.

For more information, visit www.specialolympics.caor follow us on Facebook and on Twitter (@SpecialOCanada).


Should you have any questions or require additional information, please visit www.jysk.ca or contact

Lynne Williams
Director of Advertising

JYSK Canada
1435 Broadway St.
Port Coquitlam, BC, V3C 6L6
604-472-0769
lynnew@jysk.ca

Bill Wilson (or local contact)
Director, Marketing & Communications
Special Olympics Canada
T: (416) 927-9050, ext. 4383
Bwilson@specialolympics.ca
---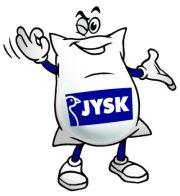 Billi's News
Who: JYSK Canada

What: We're celebrating the 2000th JYSK store opening

Where: JYSK locations across Canada and at www.jysk.ca

When: From September 13 to October 3

WOW: To celebrate this special event we're giving away 5 $2000 shopping sprees! Find out more about the contest here: http://bit.ly/jysk2000. Visit your local JYSK store often for special buys throughout the month of September.

Our weekly flyers always have amazing deals on everything from bedding to office desks and chairs to dining room sets.

JYSK Canada: Since we opened the first Canadian JYSK store in 1996, we just keep growing! Over the summer four new stores opened in Ontario. Now there are 54 JYSK stores all across Canada, from British Columbia to Nova Scotia.

To find a JYSK store in your area be sure to visit our Store finder.
For questions about JYSK and new store openings, contact:
Lynne Williams, Director of Advertising
604-472-0769
lynnew@jysk.ca
Press Release - JYSK "BURLINGTON WEST" to open August 25, 2012
JYSK - DANISH RETAIL GIANT, TO OPEN "BURLINGTON WEST" STORE ON AUGUST 25TH, 2012

JYSK Bed • Bath • Home - the Scandinavian-based retailer with over 1900 locations worldwide, will soon open their second JYSK location in the city of Burlington, ON.

The brand new 18,000 square feet store is located at 1059 Plains Road East in QEW/403 Centre next to IKEA. JYSK is offering Big Savings on a wide selection of products as part of a special Grand Opening flyer on August 25th/26th at the new Burlington West store! On August 25th at 8 am the first 200 customers will receive a Free $25 Bonus Card!

JYSK is your indoor and outdoor, everything for your home store! JYSK boasts a wide range of designs and products to suit a vast scope of tastes and budgets. Celebrating 16 years in Canada this fall, the popular Scandinavian furniture, home solutions chain has become the go-to destination for savvy decorators and homeowners who are looking to spruce up their living spaces inside and outside of the house.

First set up shop under the JYSK: Linen 'N Furniture shingle in Canada in 1996, the company has evolved immensely from its original offerings it first began plying in Denmark in 1979. Since then, JYSK has established itself as a Canadian mainstay source for home furnishings, accessories, linens and décor for consumers from coast to coast.

"At JYSK, customers will find all the furnishings they need for their home; from mattresses to towels, including linen and curtains. Duvets and pillows are a JYSK trademark as we are the world's largest buyers of these products. In our furniture department, people will find a large selection of Scandinavian and North American style beds, tables, bookcases, seating, and dining sets. We also carry a great assortment of outdoor product, gifts, and décor items, and because we buy very large volumes around the world, we can offer our customers the lowest prices possible." stated Lynne Williams, JYSK's Director of Advertising.

This new store makes 54 JYSK locations across Canada. The first Canadian store opened 16 years ago in Port Coquitlam, BC. Since then, the company expanded rapidly and now has a coast-to-coast presence from British Columbia to Nova Scotia. In addition to the "brick-and-mortar" stores, JYSK ships anywhere in Canada from its Online Store at www.jysk.ca


Should you have any questions or require additional information, please visit www.jysk.ca or contact

Lynne Williams
Director of Advertising

JYSK Canada
1435 Broadway St.
Port Coquitlam, BC, V3C 6L6
604-472-0769
lynnew@jysk.ca
---
Press Release - JYSK "Guelph" to open August 11, 2012
JYSK - DANISH RETAIL GIANT, TO OPEN "GUELPH" STORE ON AUGUST 11TH, 2012

JYSK Bed • Bath • Home - the Scandinavian-based retailer with over 1900 locations worldwide, will soon open their new JYSK location in the city of Guelph, ON.

The brand new 18,000 square feet store is located at 101 Clair Road East in Pergola Commons next to Dollarama. JYSK is offering Big Savings on a wide selection of products as part of a special Grand Opening flyer on August 11th-12th at the new Guelph store! On August 11th at 8 am the first 200 customers will receive a Free $25 Bonus Card!

JYSK is your indoor and outdoor, everything for your home store! JYSK boasts a wide range of designs and products to suit a vast scope of tastes and budgets. Celebrating 16 years in Canada this fall, the popular Scandinavian furniture, home solutions chain has become the go-to destination for savvy decorators and homeowners who are looking to spruce up their living spaces inside and outside of the house.

First set up shop under the JYSK: Linen 'N Furniture shingle in Canada in 1996, the company has evolved immensely from its original offerings it first began plying in Denmark in 1979. Since then, JYSK has established itself as a Canadian mainstay source for home furnishings, accessories, linens and décor for consumers from coast to coast.

"At JYSK, customers will find all the furnishings they need for their home; from mattresses to towels, including linen and curtains. Duvets and pillows are a JYSK trademark as we are the world's largest buyers of these products. In our furniture department, people will find a large selection of Scandinavian and North American style beds, tables, bookcases, seating, and dining sets. We also carry a great assortment of outdoor product, gifts, and décor items, and because we buy very large volumes around the world, we can offer our customers the lowest prices possible." stated Lynne Williams, JYSK's Director of Advertising.

There are currently 53 JYSK locations across Canada. The first Canadian store opened 16 years ago in Port Coquitlam, BC. Since then, the company expanded rapidly and now has a coast-to-coast presence from British Columbia to Nova Scotia. In addition to the "brick-and-mortar" stores, JYSK ships anywhere in Canada from its Online Store at www.jysk.ca


Should you have any questions or require additional information, please visit www.jysk.ca or contact

Lynne Williams
Director of Advertising

JYSK Canada
1435 Broadway St.
Port Coquitlam, BC, V3C 6L6
604-472-0769
lynnew@jysk.ca
---
Press Release - JYSK "Scarborough" to open July 28, 2012
JYSK - DANISH RETAIL GIANT, TO OPEN "SCARBOROUGH" STORE ON JULY 28TH, 2012

JYSK Bed • Bath • Home - the Scandinavian-based retailer with over 1900 locations worldwide, will soon open their new JYSK location in the city of Scarborough, ON.

The brand new 20,800 square feet store is located at 3401 Lawrence Ave. in Cedarbrae Mall next to nofrills. JYSK is offering Big Savings on a wide selection of products as part of a special Grand Opening flyer on July 28th/29th at the new Scarborough store! On July 28th at 8 am the first 200 customers will receive a Free $25 Bonus Card!

"At JYSK, customers will find all the furnishings they need for their home; from mattresses to towels, including linen and curtains. Duvets and pillows are a JYSK trademark as we are the world's largest buyers of these products. In our furniture department, people will find a large selection of Scandinavian and North American style beds, tables, bookcases, seating, and dining sets. We also carry a great assortment of outdoor product, gifts, and décor items, and because we buy very large volumes around the world, we can offer our customers the lowest prices possible." stated Lynne Williams, JYSK's Director of Advertising.

There are currently 52 JYSK locations across Canada. The first Canadian store opened 16 years ago in Port Coquitlam, BC. Since then, the company expanded rapidly and now has a coast-to-coast presence from British Columbia to Nova Scotia. In addition to the "brick-and-mortar" stores, JYSK ships anywhere in Canada from its Online Store at www.jysk.ca

Should you have any questions or require additional information, please visit www.jysk.ca or contact

Lynne Williams
Director of Advertising

JYSK Canada
1435 Broadway St.
Port Coquitlam, BC, V3C 6L6
604-472-0769
lynnew@jysk.ca
---
Press Release - JYSK "Sarnia" to open July 21, 2012
JYSK Bed • Bath • Home - the Scandinavian-based retailer with over 1900 locations worldwide, will soon open their new JYSK location in the city of Sarnia, ON.

The brand new 18,000 square feet store is located at 600 Murphy Road in the Zehrs Food Plus Centre next to Superstore. JYSK is offering Big Savings on a wide selection of products as part of a special Grand Opening flyer on July 21st/22nd at the new Sarnia store! On July 21st at 8 am the first 200 customers will receive a Free $25 Bonus Card!

"At JYSK, customers will find all the furnishings they need for their home; from mattresses to towels, including linen and curtains. Duvets and pillows are a JYSK trademark as we are the world's largest buyers of these products. In our furniture department, people will find a large selection of Scandinavian and North American style beds, tables, bookcases, seating, and dining sets. We also carry a great assortment of outdoor product, gifts, and décor items, and because we buy very large volumes around the world, we can offer our customers the lowest prices possible." stated Lynne Williams, JYSK's Director of Advertising.

There are currently 51 JYSK locations across Canada. The first Canadian store opened 16 years ago in Port Coquitlam, BC. Since then, the company expanded rapidly and now has a coast-to-coast presence from British Columbia to Nova Scotia. In addition to the "brick-and-mortar" stores, JYSK ships anywhere in Canada from its Online Store at www.jysk.ca

Should you have any questions or require additional information, please visit www.jysk.ca or contact

Lynne Williams
Director of Advertising

JYSK Canada
1435 Broadway St.
Port Coquitlam, BC, V3C 6L6
604-472-0769
lynnew@jysk.ca
---
Press Release - Second JYSK "Saskatoon" to open April 21, 2012
JYSK - DANISH RETAIL GIANT, TO OPEN SECOND "SASKATOON" STORE ON APRIL 21ST, 2012

JYSK Bed • Bath • Home - the Scandinavian-based retailer with over 1900 locations worldwide, will soon open their second JYSK location in Saskatoon, SK.

The brand new 18,000 square feet store with 4,000 sq. ft. garden centre is located at 301 Confederation Dr. in the Circle West Centre. JYSK is offering Big Savings on a wide selection of products as part of a special Grand Opening flyer plus save the GST and PST on April 21st/22nd at both Saskatoon locations!. On April 21st at 8 am the first 200 customers at the Circle West Centre store will receive a Free $25 Bonus Card!

"At JYSK, customers will find all the furnishings they need for their home; from mattresses to towels, including linen and curtains. Duvets and pillows are a JYSK trademark as we are the world's largest buyers of these products. In our furniture department, people will find a large selection of Scandinavian and North American style beds, tables, bookcases, seating, and dining sets. We also carry a great assortment of outdoor product, gifts, and décor items, and because we buy very large volumes around the world, we can offer our customers the lowest prices possible." stated Lynne Williams, JYSK's Director of Advertising.

There are currently 50 JYSK locations across Canada. The first Canadian store opened 15 years ago in Port Coquitlam, BC. Since then, the company expanded rapidly and now has a coast-to-coast presence from British Columbia to Nova Scotia. In addition to the "brick-and-mortar" stores, JYSK ships anywhere in Canada from its Online Store at www.jysk.ca

Should you have any questions or require additional information, please visit www.jysk.ca or contact

Lynne Williams
Director of Advertising

JYSK Canada
1435 Broadway St.
Port Coquitlam, BC, V3C 6L6
604-472-0769
lynnew@jysk.ca
---
---